Salmon Landings can be found at Strathy Point. The promontory of Strathy Point forms the Western shore of Strathy Bay approximately the top dead centre of the North Coast of the UK (North coast of Scotland).
Salmon Landings is just over a mile along the road to the Strathy Point Lighthouse.
Salmon Landings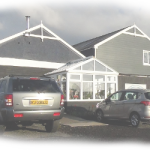 Take the road to Strathy Point towards the lighthouse and you will find us situated on the clifftop with Port Ghrant (private cove with jetty) nestled below.